Executive MBA Degree Programs
Executive MBA programs are management programs meant especially for the working professionals who have a considerable amount of work experience with them but lack in a post-graduate academic qualification. While there are some other working professionals, who have a post-graduate degree in their hand, but, they still want to enhance their academic or professional qualification.
Qualifications earned by working professionals come under the umbrella of executive education. Working professionals and organizations are becoming more considerate towards adding more to the resume through executive education. Working professionals add on more to their qualifications with an idea either to get personal satisfaction or to regain the lost repute in the organization.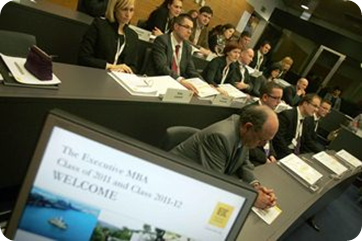 Working professionals get satisfied by adding new qualifications because they love to study more and more. Adding yet more qualifications to their resume gives them a positive feeling above their peers. Next, working professionals tend to lose their repute in comparison with their peers who have either a higher qualification in comparison to them or whose resume is adorned with some additional niche specific and more focused specialised program. Sometimes, employers motivate their hand-picked employees to go for an additional degree that may bolster their career prospects within the organization without giving away the professionals responsibilities dispensed in the office. In such a scenario, where executives tend to add more qualification but, at the same time do not want to compromise with the job, comes the importance of executive MBA programs.
Executive MBA programs are just one channel of implementing executive education in India. The executive MBA programs in India can be technically categorised as Executive MBA degree programs and Executive MBA diploma programs. Although, EMBA programs in India are never explicitly categorised and called as degrees or diplomas, they are rather collectively called executive MBA programs only. The main difference between a degree and a diploma is that a degree is conferred upon by an accredited university whereas; a diploma is conferred upon by an institution which is not accredited under any university. Practically speaking, in India; it doesn't matter whether you earn an executive MBA degree or an executive MBA diploma; it is the executive MBA College, its reputation and its accreditation that matters as a whole. One more difference between a degree and a diploma is that a degree covers the whole curriculum more comprehensively and in depth, whereas; diploma covers the curriculum in more a practical sense. It takes more focused approach in delivering the education.
Hence, it can be concluded that executive MBA degree programs in India are as influential as executive MBA diploma programs. Undoubtedly, more focused needs to be put on colleges providing EMBA programs.