Job Prospects after Executive MBA
Enrolling to an executive MBA program in India has proved to brighten the prospective job opportunities. EMBA programs in India are basically devised for working professionals who are in midst of their career path with handsome experience, but, lack the academic qualifications due to some or the other reasons. These EMBA programs help upgrading the academic knowledge of the working professionals, as expected and update them with the latest trends as well.
Now-a-days, even young professionals, who have recently completed their graduation (or in some cases post-graduation) and have a handful years of experience turn to gain an EMBA degree in order to enhance their job prospects in India after completing executive MBA. Organizations motivate their employees to enhance their skills through suitable executive MBA courses in India.
Working professionals turn back to education after starting working with an organization because an added qualification helps them in climbing up the career ladder. Executive MBA program helps in increasing job prospects in India after EMBA by way of: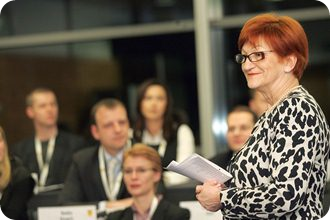 1. Role Expansion: Acquiring an EMBA degree adds to the skill set of an executive. This is turn, makes the executive more responsible and employer bestows him with added responsibilities. Role expansion increases the work load initially, but, once the caliber is proved, becomes a factor in building base for a promotion and hike in salary later.
2. Promotion: An EMBA degree increases the professional's value within the organization. Laced with enhanced skills and leadership qualities the professional qualifies to be a prospective candidate for promotion (or change in designation) to next level positions. Promotion always brings added responsibilities and accountability, but, hike in salary is likely.
3. Salary Increment: EMBA inculcates added decision-making capabilities and leadership qualities in the professional behavior. This makes the professional stand apart in the crowd, and hence, makes him eligible to reap more financial benefits from the organization, be them in terms of salary increments itself.
4. Adding value to professional life: EMBA helps in acquiring and polishing management skills that make the professional more responsible and efficient in least possible time. Taking learned and informed decisions helps in enhancing the benefits of the organization (both at employee and employer level). New capabilities allow keeping a watch on the problems with a newer perspectives and helping in taking decisions strategically. Such efforts add value to the professional life.
Thus, it can be rightly said that the possibilities are high with higher job prospects in India after executive MBA.