Value of an Executive MBA Degree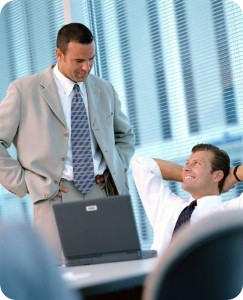 What is the value of an executive degree in India? The answer is different for both the working professionals and the employers.
Value of an executive MBA degree for working professionals
Working professionals miss earning an academic degree either due to some personal reasons, back at home or sometimes they wish to grab some lucrative job opportunity straight after graduation. Here comes the value of executive MBA. Executive MBA provides an opportunity to the working professionals to earn a management degree without compromising with their work schedules. In addition to this, they also provide some additional benefits, which include:
– Regaining respectable status in the office: EMBA course equips the older officials with the latest knowledge and trends that lead them to accept new challenges and provide with their solutions, taking a fresh approach. Managerial qualities learned help in managing the daily tasks more efficiently. Hence, this way, Executive MBA helps in regaining the lost status in the office.
– Applying practical knowledge with immediate effect: Professionals take up and discuss current issues in the EMBA classes. Faculty and students come to a concrete solution collectively, which can be immediately applied into the organizational set-up. Hence, professionals are able to learn and apply the knowledge immediately on the job.
– Increment in Salary: Executive MBA inculcates efficiency and risk in taking added responsibilities that ultimately lead to increased benefits for the organization. So, added responsibilities leads to increase in salary drawn.
Value of executive MBA for employers
Recently, organizations have started considering EMBA programs over traditional MBA programs as an effective employee retention tool. Some organizations also provide sponsorships for some selected candidates, with an idea to get benefits from the employees, which include:
– Increased ROI: Employers consider sponsoring the EMBA courses for employees as a wise business investment. On EMBA course completion, the professionals submit a report to the organization with the findings that can be implemented. This brings in faster returns – ROI for the employer.
– Employee Retention: Employers confirm the job security in lieu of taking up additional academic degree. So, this way, employee retains the experienced work force, which could otherwise plan to make a move for better career prospects somewhere else.
– Increased Loyalty: As the employer promises job security and helps in adding more credibility to the resume, the professionals become more loyal towards the organization. This helps in retaining productive employees.
– Higher Motivation Levels: Employers have found higher motivation levels in the employees after completing the EMBA course. This leads to self-motivated seniors who can further energise the team members. This brings increased levels of satisfaction for the employers as well.